Welcome to
Morristown, New Jersey
____________________________________________________________________________________
************************************************************************
Join Us !
Private Holistic Health Consultations, Classes, Energy Technologies
I have noted that the children raised on medications

for every sniffle and sneeze and who were taught that

shots and drugs are the solution to every suspected

stress or imbalance often become the most likely to

seek out recreational drugs later in life. Those given

healthy solutions at an early age will seek healthy

solutions throughout their life.

Dian Freeman




published June 2008 in Natural Awakenings Magazine
Dian's next six month nutrition program will begin
September 2017.
Classes are held every other week on either Sundays or Thursdays
Graduates of this course will earn a Certified Holistic Health Counselor, CHHC
Dian has been teaching this course for over 14 years
and has over 750 graduates
Call Us at 973 267-4816 to
Put a deposit to hold your seat in Dian's Nutrition Program and to
Sign up for the many one-day classes that will be taught by Dian
during early spring through late summer, 2016
Morristown, New Jersey
We are now accepting deposits to hold space for
the fall/winter 2017 program
Classes will be held every other week 11am to 4pm
Weather and Holidays permitting
Sunday Program will begin September 17th, 2017
Thursday Program will begin September 14th, 2017
Call to get on Dian's class interested Email list
she will be teaching many other one-day classes
this coming spring and summer.
Danielle Receiving her HHC Certification from Dian, 2014
Dian with Fall/Winter 2016/2017 CHHC Graduates
Dian with Fall/winter 2015/2016 CHHC Graduates
Congratulations Certified Holistic Health Counselors, CHHC
Dolce Hotel and Resort, Basking Ridge, NJ

Fall/Winter Sunday 2014/2015 HHC Course
Olde Mill Inn, Basking Ridge, NJ
Dian's WELLNESS SIMPLIFIED OFFERINGS
Dian's Certified Holistic Health Counselor Course
held all day every other week on Sundays
(12 one-day classes for 6 months)
Private Nutritional Consultations
Symptomology and Applied Kinesiology determines
each client's individualized
optimal diet and supplementation program.
We see Pets too!
Ondamed - Bio Feedback
Addressing pain, Weight , Smoking, Addictions, Premature Aging,
Osteoporosis, Detoxification, Hyperactivity, Brain Function, Pathogens,
Heavy Metals, Chemical toxins and much more
also for Psyche, Mental and Emotional Enhancement and Balancing
Weekly Classes & Workshops
Herbs, Muscle Testing, Signs & Symptoms, Dr. Mom,
Keeping a Natural Medicine Chest, The ABCs of Health
Applied Kinesiology/Muscle Testing, Emergency Preparedness
Traditional Diagnostics, Essential Oils- Aromatherapy,
Traditional Chinese Medicine, Overview of Energetic Modalities,
Nutritional Overview and MORE...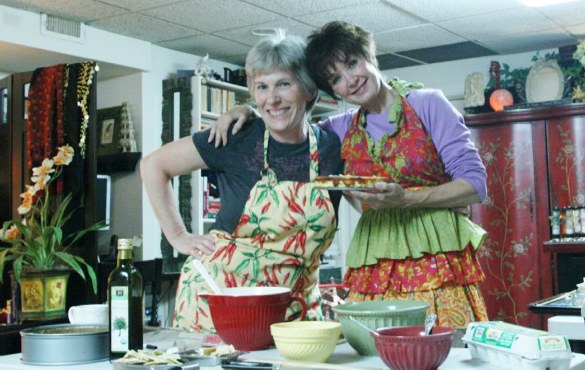 Cooking with Donna and Dian - Classes 2012
***********************************************
Click here for info on:
To be a Certified Holistc Health Counselor, CHHC
A six month course
Meets for One Day -Twice a Month
Every other Sunday 12:00 to 5:00
Spring/Summer 2016 Starts April 24th 2016
Fall/winter 2016/2017 starts October 9th 2016
Join Us !
The Course Also Includes :
How to make sense of the contradictions offered by numerous nutritional approaches
and the conflicting information offered by the books written on nutrition
How to Practice Nutrition & The Business of Counseling
Body Systems & Their Nutritional Needs
Muscle Testing & Traditional Symptomology
Functional Nutrition & Blood Type Diet
An overview of complementary modalities
Vendors used, Herbs, Nutracuticals, Essential Oils, Energetics,
food, Biofeedback and Health Technologies
Advanced Holistic Health Certification, AHHC, courses
will be offered for those who have completed the CHHC
***********************
Which Life Are You Designing?
Disclaimer:
Any information from Dian's Wellness Simplified is not intended to replace
competent medical advice.
It is offered for educational purposes only.
All information is based solely on our research, opinion and/or experience
and is not meant to be prescriptive.